The girls and I went to the stamping convention and did a little shopping. Lexi and Gigi wanted every stamp they saw. There were tons of rubber mounted stamps and a few acrylic stamps. I felt some things were over priced but it was so worth going. I met this woman from Splitcoast Stampers and I asked her a question about crackle paint. While she demonstrated for me on a tag and when she was done, she gave it to me. I'll take a picture of it later for you all to see plus I'll link it to her blog. It's really pretty.
Lexi and Gigi made a notebook with a "bind it all" then tried to get me buy one. But I don't see much use for that toy right now. I don't make many mini albums.
Later one of the staffers came up to us and started talking to Gigi and Lexi, then asked her if she like red or blue stars. She said yes and he gave her a program with star in it. About 5 minutes later, she won a $25 Gift Cert. Both girls picked out PINK flowers. While at that booth I finally found "happy mothers day stamps" Whoo hoo! June, you would have had fun!!
Here's my loot from the Expo: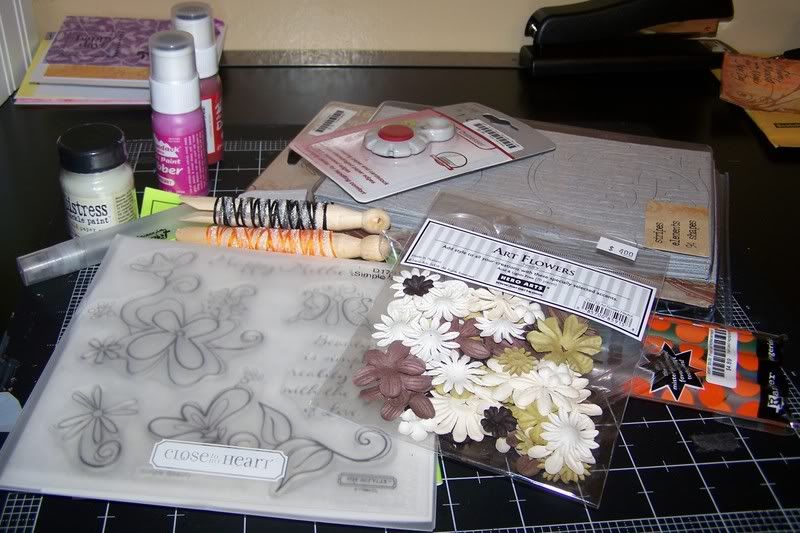 So we left there and I pulled out my mapquest direction and headed towards Archivers.
At first I was like this place isn't as big as I thought. The store on the webpage looked huge. Maybe Cleveland is bigger. But once you get inside there is tons of stuff. They have paper, albums, bags and a class room in the back. There is a massive 1.99 section. That is where I did most of my damage. They also have a big clearance section too. It looked like alot of christmas stuff. Oh, btw their cardstock is ROY G BIV, I did chuckle to myself. LOL Their restrooms are clean and smell good. Lexi had to go potty like 3 times while we were there. LOL They had sooo much stuff. I took a couple teaser picks for you all.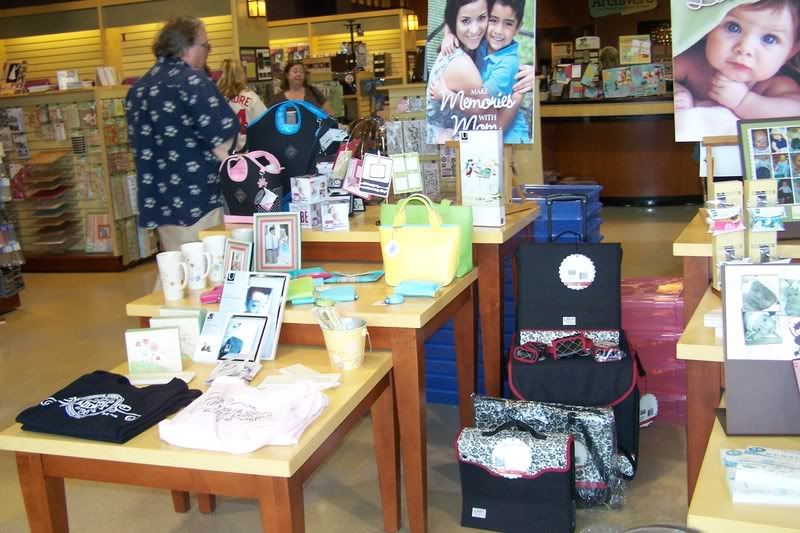 Here's my loot from there:
We left there and went to Quizno's and came home. We had a blast! Gigi and Lexi wants to go back tomorrow, but i don't see that happening! :)
Here's a LO I made with my new scrappy goodness. This was the final layout for the AMR Castaway Club. I used grunge board on it, as well as the new dabber paint. I also used new MM felt flower.
This LO is the one I did for the OLW Challenge. The word was Grow this time. I kept thinking either use a flower or a baby picture. I've done a lot of baby pictures lately so I went with the flower. These are bubblegum flowers because they smell like grape bubblegum. I don't know their real name, but either way they are a cute flower.
Well that it's for this time.
Ta-ta for now!