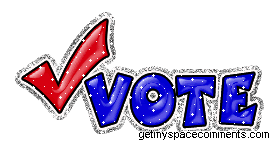 I hope everyone goes out and VOTES today!! I don't care who you vote for as long as you exercise your American Right!!
After I vote today...I'm headed to Starbucks to get free coffee. Yum!!
I have to show off some Halloween Pics!
Lexi was Sharpay from High School Musical.
Gigi was a witch.
I can't wait to scrap these!!
I've gotten quite scrappy the last couple of day! It's felt so good to play with paper!! I love the feel of ink, glue and sparkles stuck on my fingers.